Internet TV - PC & TV - Merging Technologies



Internet TV has been my pet project for over three years using "my PC method", which now has become redundant except for viewing family videos. (I might change my mind about this, as I have found some smartphone apps to assist with text input and quick navigation - see below!)

I have predicted that Internet TV will be a commercial reality in the second half of 2013. At least as far as myself is concerned this will be true, as I have decided to buy the latest Google TV Sony NSZ-GS8. This is a setup box which will work together with our 40" TV (Samsung LE40M8 bought in 2007). We do not need 3D or 4K and thus don't feel the need for a new TV yet.

There has been progress in input methods, especially for quick navigation. LG:s Magic Remote has a (wii type) pointer, a scroll wheel and it allows control through voice and gestures. Similarly, the Panasonic Remote has a touchpad, pointer and voice control, and the Philips Remote has a pointer and a keyboard. The Samsung Remote has a touchpad plus gesture and voice control. But what about Sony, their "second" remote (NFC) problably being very clever, but how?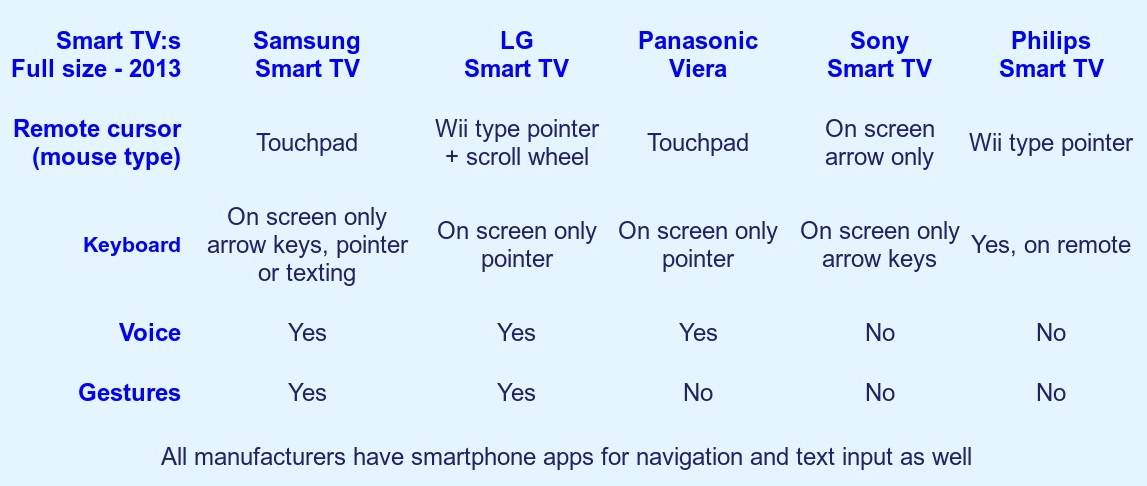 To enter text in search boxes Smart TV:s mainly seem to rely on a virtual keyboards on the TV screen using arrow keys, pointing or texting with the remote. Or using voice input.

The HTPC method compares rather favourably, which made me look for and find smartphone apps for my Nexus 7 tablet, that could assist with quick web site navigation and entering text in search boxes: Advanced Touchpad, Remote Trackpad and Instant Remote. I prefer the latter one as it also works with Linux.

RF Remotes have the advantage that they can transmit through a wall. With the new generation of Android based mini PC sticks - which plug into one of the TV:s HDMI ports - has emerged a series of RF remotes transmitting to a USB receiver. I have bought two RF Remotes for evaluation,

As to multitasking, or at least tabbed browsing, it is difficult to evaluate the progress made (except Panasonic adding a second tuner). At least it is not obvious judging from the reviews. So far only Samsung claims that their 2013 Smart TV:s are capable of tabbed browsing and multitasking.