Krister's Blog
krister at hallergard dot com



Last Updated:
2014-01-16
Prev version

My Nexus 7 (2012) Tablet

Update 2014-01-16


One of the first days of January 2014 the operating system was upgraded to Android 4.4 KitKat, and it was no longer possible to sideload Adobe Flash, still needed to play vidoes, such as YouTube, in a web browser. Xda-developer came up with this Flash hack for Dolphin, which is now replacing Firefox as my default browser.


Previous Update: 2013-04-28
We used to say that we did not need a smartphone, as anything could be done better on the PC (exception: mobility). That is still true, but in 2011 we gave in to the hype and got Sandra a Samsung Galaxy S2, nicknamed "Smarty", which was a big success. So I wanted one too, but not necessarily with phone capability, just for using the internet in the conservatory (or in the hammock - weather permitting). I liked the Kindle Fire spec. but they did not market it in the UK until November 2012. When Google announced its Nexus 7 in July 2012, I was among the first to order it. Am very pleased with "Paddy", though have yet to use it in the hammock.

Link to some homescreen screenshots. Pls note that the round icons are folders containing several app and internet shortcuts. Link to a more recent main homescreen.

The Nexus 7 display is excellent, 1280x800 resolution, and suitable for reading Ebooks (in a very sunny environment the glaring gets too much though). Reading is what I use it most for: internet, news papers, news aggregators (such as Current, Appy Geek and Engadget) and Ebooks. For internet I use Firefox for four reasons:
Allows sideloading of flash, which still is important for watching videos on many websites - the Chrome browser does not
Allows using my html menus for our videos on the sdcard, whereas most other android browsers cannot find the video files
Allows forcing desktop mode (using the Phony plugin), sometimes in preference to the corresponding apps (e.g. Facebook)
Allows tabbed browsing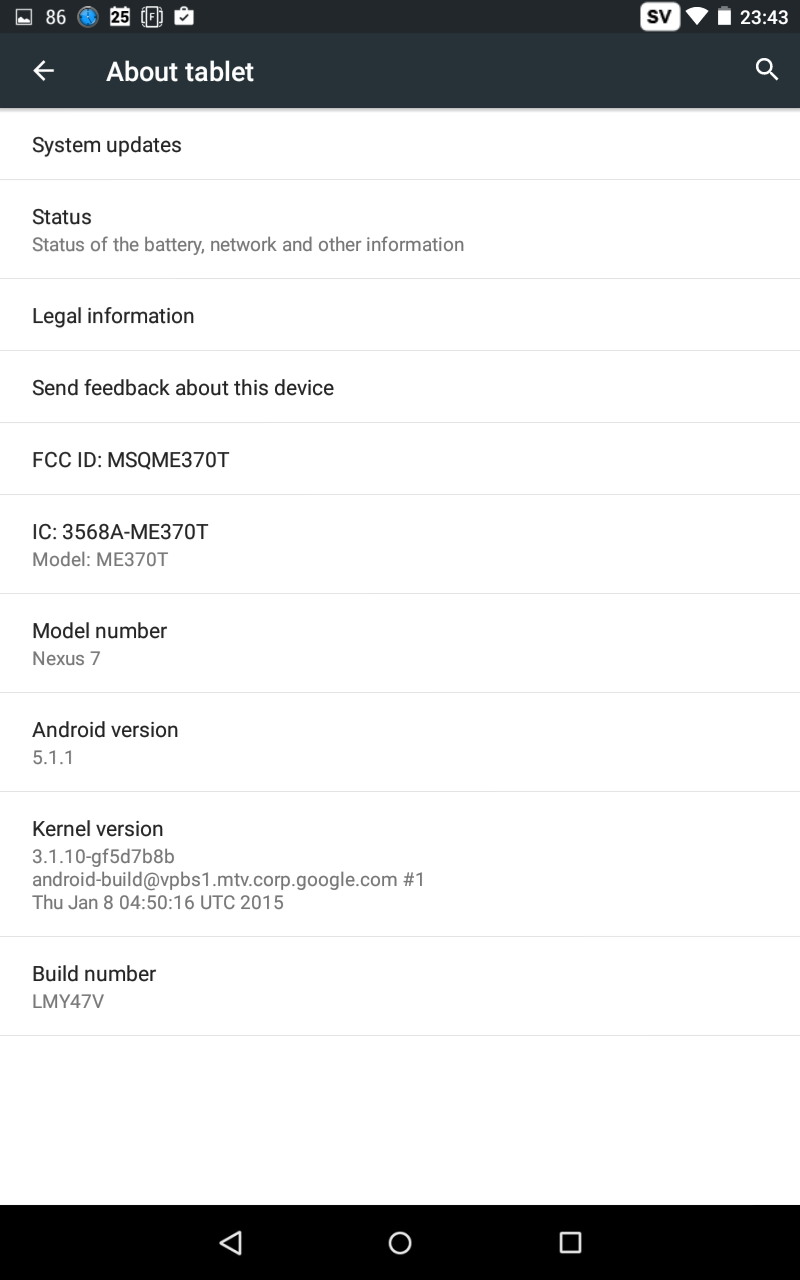 Updated May 2015

I also watch a lot of videos on the tablet, YouTube, BBC iPlayer and SVT Play. If I have one complaint against Nexus 7 it is the low sound volume, which sometimes forces me to use earphones to hear some videos. The XBMC app has a somewhat higher volume, so I use that to watch BBC Click and Cnet podcasts.

My tablet is WiFi only, but I got a Google Voice Number so that I can make and receive phone calls. For IM (Instant Messaging) I use Google, Skype, Whatsapp or Viber, depending on what app my recipient has. Have got Skype and Google Talk/Hangout for video calls. For Email I prefer the K-9 app and for newsgroup forums the Tapatalk HD app.

I have the 16 GB storage version, which has allowed me to copy over from my PC all our photos, our more recent family videos and about 10% of our mp3 collection. Thus I don't use the Cloud very much, the exception being office documents and some text and pdf-files, for which I use Dropbox. All these are in the Dropbox folder on the PC so that I can access them on Paddy, and I can even do some limited editing, using the Kingsoft Office app.

All heavy computer work I leave to the PC, like creating new office documents, photo and video editing, etc. I have probably transferred half of my previous PC time to the tablet, and I might delay renewing the PC for a while longer than otherwise.