Krister's Blog
krister at hallergard dot com



Last Updated:
2015-11-15
Prev version


Smart TV - Internet TV Part 2: UK
Streaming Media - Streaming Devices



This is about streaming media onto the big screen, to view videos and movies sitting in the TV couch. My views are coloured by the UK infrastructure for TV and telecom. If you live in countries with state involvement, you might recognize the situation.


View Video 9½ min
In the UK digital terrestial OTA TV is the main broadcast platform. BBC is a state monopoly. Commercial TV was allowed with ITV in 1955, as a heavily regulated "public service" - ITV was allowed using the same OTA transmission platform as BBC. Same with the addition of Channel 4 and Channel 5.

Also after the change from analogue to digital, they all use the same OTA transmission platform, now called Freeview (it is delivered by the company DTV Services Ltd, a joint venture between the BBC, ITV, Channel 4, Sky and transmitter operator Arqiva.) Government grants were made available to help users, such as the elderly and the disabled, to upgrade their antennas. All channels use the same transmitter, so there is only one direction to point the aerial at (unlike in the US).

In the UK there is a TV licence $145.50 per year for viewing or recording live TV, but there is a loophole for streaming, such as using the BBC iPlayer. The number of households without TV has increased, to 7% last year - mainly young people viewing on laptops and tablets - "TV-nevers" rather than "cord-cutters" or "cord-nevers".

After various mergers only SKY (satellite) and Virgin Media (cable) remain worth mentioning. Also these require a TV licence for viewing or recording live TV.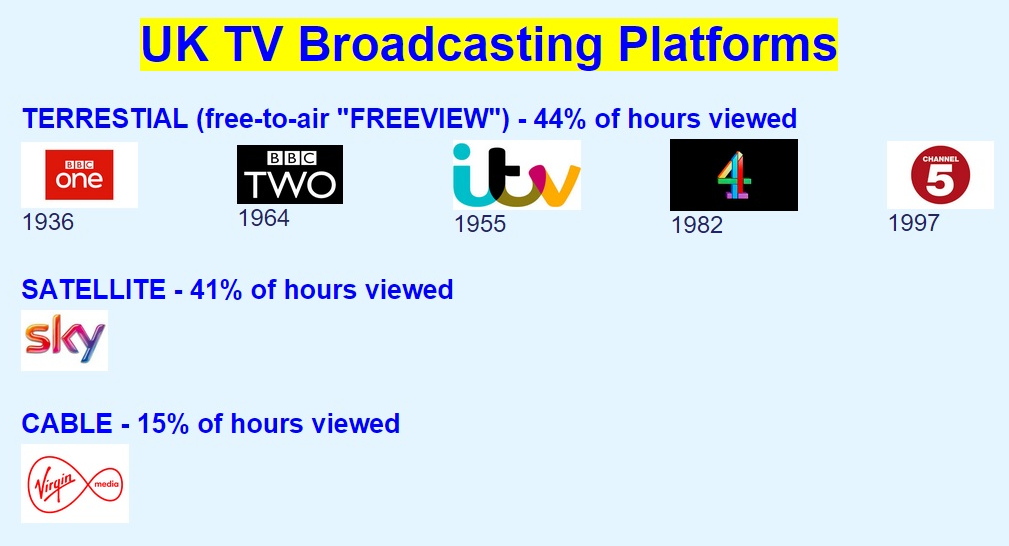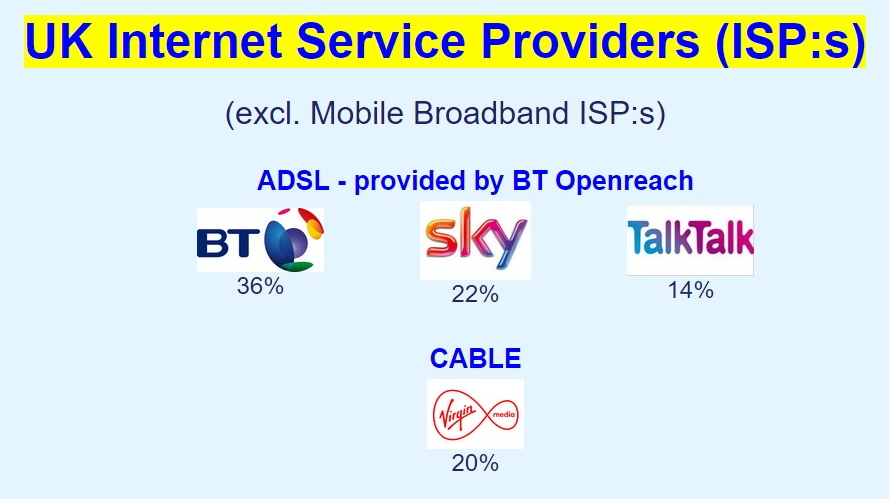 In the UK almost 80% of Internet is ADSL over the telephone lines. British Telecom (BT) was also a state monopoly, but was privatized in 1984. In 2006 BT was forced to form a special subsidiary BT Openreach - responsible for the "last mile" of copper wire, to ensure that the other communication providers - mainly SKY and Talktalk - have equal access to BT's local network. The cost for the landline is £17 - £18 per month from the three ISP:s. The present bandwidth is up to 17 Mbps, being upgraded to up to 38 Mbps. Virgin Media - the only cable ISP offers the highest bandwidths, from up to 50 Mbps (up to 200 Mpbs in some areas).

Set-top Boxes & Digital Video Recorders (DVR:s)

BT and TalkTalk provide their customers with YouView box. BT provides its own "TV Starter" box without hard disk or for a more expensive bundle a box with harddisk made by Humax. TalkTalk provides a box without hard disk or for a more expensive bundle a box with harddisk, both made by Huawei. Unlike in the US you own the box. But you can buy the YouView boxes directly from Humax and Huawei.

SKY provides their own boxes with recording capability as part of their bundles.

Virgin Media has a TiVo box with recording capability is part of their bundles.

Streaming Media

For BT and TalkTalk the YouView boxes come with Freeview (89 SD and 14 HD channels):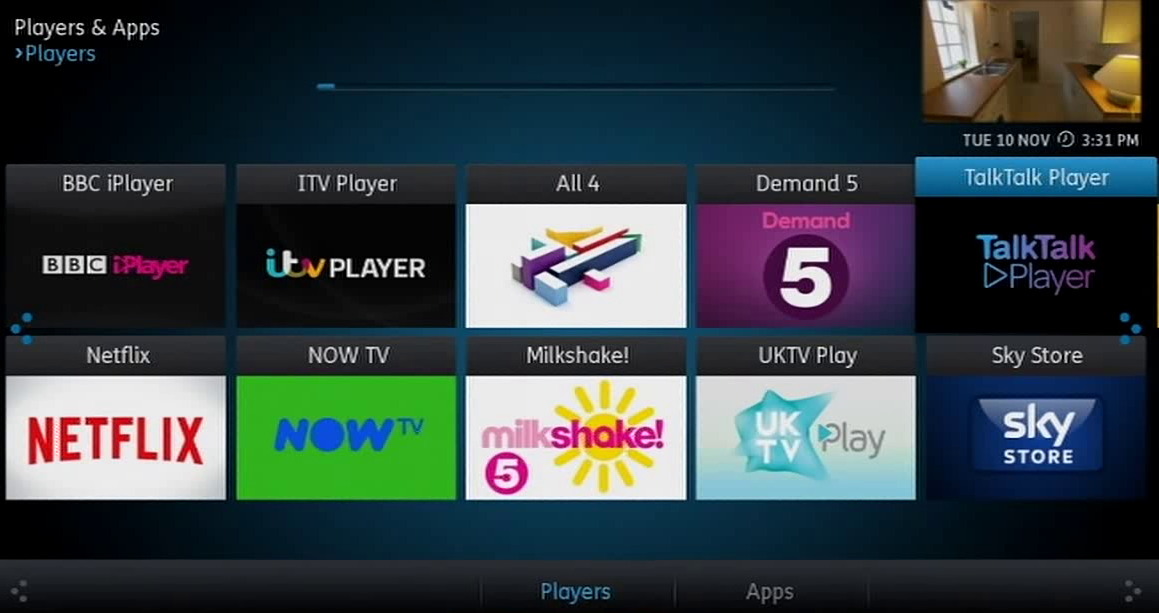 YouView - On Demand - Players
Catch-up: BBC iPlayer, ITV Player, All4, Demand 5
and a few others incl. BBC News and BBC Sport apps
BT Vision Player or TalkTalk Player
Subscription: Netflix, NowTV (from SKY)
Rental: SKY Store
SKY gives you, with their basic bundle, 229 SD and 11 HD channels and catch-up service of all the UK TV networks. They also offer various additional bundles, such as HBO Plus and other Fox related offerings.

Virgin Media gives you, with their basic bundle, 60 SD and 10 HD channels and catch-up service of all the UK TV networks. They also offer various additional bundles.


| | |
| --- | --- |
| Sport: The "public service" broadcasters BT and ITV have been granted the right to show certain major sport events, like the Olympics, Wimbledon, the Open (Golf) etc. For the past 10 years SKY has been the major provider of other sports events. However, lately BT has won some of the bidding contests (such as premier league football=soccer). You can also get at least some of SKY Sports and BT Sports from the competing ISP:s. SKY Store and NowTV attempt selling some of the SKY Movies and Sports to Freeview/YouView users. | |
Movies and American TV shows series: In addition to what is available on the YouView box, the main subscription services of interest are Amazon Prime, HBO Now (available in the UK on SKY bundles) and Hulu Plus (not available in Europe). I am rather disappointed in the UK versions of NowTV, Netflix and Amazon Prime. Only old movies are available, and for the US TV Shows the seasons are rather old too. Believe that the US services are more up to date. Suspect that there might be copyright issues limiting what can be shown in the UK.

Alternatively, you can buy the DVD or stream/download from Amazon, Google Play or iTunes. Or go to the Cinema!

Streaming Devices

The way the ISPs have set up their boxes and bundles, there is very little need to get a streaming device (except possibly convenience). You should be aware that the boxes do not necessarily provide the same content as they do in the US!