Krister's Blog
krister at hallergard dot com



Last Updated:
2015-11-06
Prev version

Smart TV - Internet TV - Part 1: US
Streaming Media - Streaming Devices



This is about streaming media onto the big screen: to view videos, movies and TV Shows sitting in the TV couch. My views are coloured by the UK infrastructure for TV and telecom. But first, here are my views on the US infrastructure for TV and telecom - very different from the UK.


View Video 6½ min
In the US almost everybody is using cable or satellite! But how many over-the-air (OTA) users are there? When the US transition from analogue to digital took place, most users were on cable. The networks invested the minimum necessary to keep their digital transmission licences - and most users did not upgrade their antennas for digital.

In 2010 I was telling an American friend that we were recording many high quality foreign movies and TV series - such as the Danish Killings, the Bridge and Borgen - on our TV, OTA from BBC4 - using a DVR with hard disk. My American friend had not heard of digital recorders for OTA live TV (ATSC). I googled and did find a DVR for OTA recording in the US - but to DVD disk only - not to hard disk!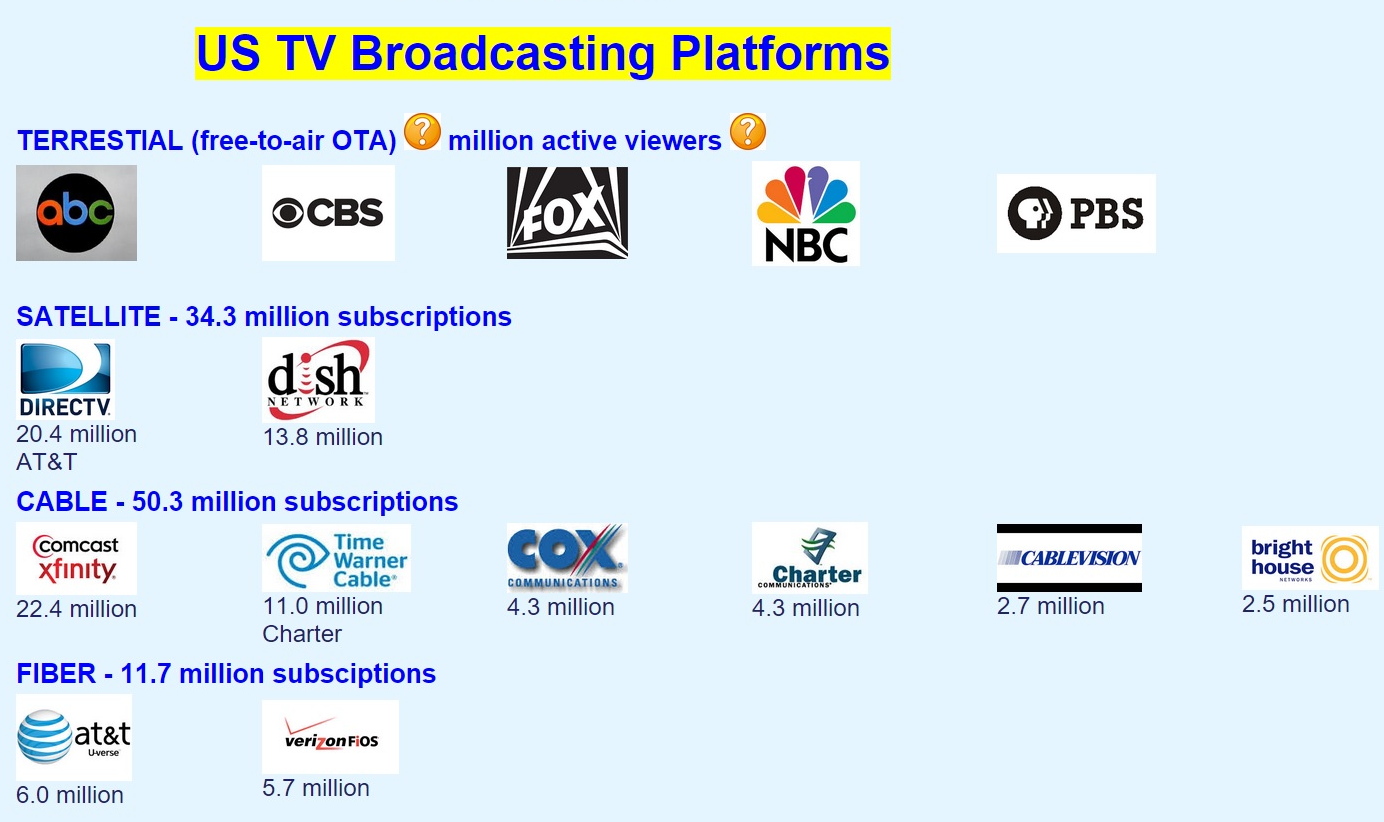 Internet Service in the US is mainly provided by the cable companies. What about non-cable ISP:s? The users of satellite TV have to find alternatives (though some 700 thousand Dish customers have a satellite internet subscription for the Slingbox). aDSL over the telephone lines has about 90% coverage, with 80& of the households able get 25 Mbps. On the premium side there is fiber, which is growing rapidly. But like with cable TV, aDSL suffers local monopoly for the fixed telephone lines in many areas.

The last few years the cord-cutter movement has gained momentum in the US - avoiding the expensive cable bundles in favour of streaming digital media, such as with Netflix on a Roku device. This has increased the demand for aDSL with higher bandwidth. And there has been a renewed interest in upgrading aerials for OTA. But there is a risk that the cable companies will increase their prices for broadband to compensate for the loss of revenue due to cord-cutters.

Set-top Boxes & Digital Video Recorders (DVR:s)

In the US the cable companies provide set-top boxes with recording capability as part of some expensive bundles. They have local monopolies in many areas - the upside being that they can afford to invest in technology - and the downside that they are very expensive - which has inspired the cord-cutters. Today you can also get DVR:s for OTA (ATSC) recording that do not require cable or satellite subscriptions:
Magnavox MDR587H HD Twin Tuner & Recorder, also DVD - no streaming services - no subscription fees - EPG?
Channel Master DVR+ 1TB HD Twin Tuner & Recorder - VuDu Pandora & YouTube - Free 14 day Channel Guide - no subscription fees
Tablo 2Tuner OTA and Simple.TV HD Twin Tuners - records to a USB hard drive which you have to add - no HDMI port requiring streaming to TV through device such as Roku - $150 lifetime subscription for remote access viewing and TV Guide (EPG)
An alternative is to use a HomeTheater PC setup with a TV-Tuner card or USB-stick such as these from Hauppauge and record to your PC:s hard disk.

Streaming Media

Here are my checklists for deciding what entertainment to add. I am not going to attempt doing that from abroad!


Sports: A major problem for cord cutters is that ESPN does not have streaming service of live sport events. Fox Sports 1 and NBCSN cannot match the coverage of ESPN. How good are their apps? And how good is ESPN Player?

Movies and TV shows series: The main subscription services are Netflix, Amazon Prime, HBO Now and Hulu Plus. You can search for a streaming device that carries what you are looking for.

There are also free internet sources that you might want to make sure that you can view, such as YouTube, Vevo, Vimeo, Revision 3 and many others.

Alternatively, you can buy the DVD of a movie or a show season or you can stream/download it from Amazon, Google Play or iTunes (pay-as-you-go).




Depending on your choice of supplier, the set-top box may already have apps for streaming services. Similarly if you buy a DVR, it might have some apps.


None of the devices above are particularly outstanding for surfing the internet requiring better cursor control and text input (though most of them support voice input). Maybe you should consider a Home Theater PC setup with a RF remote control? With this you can access the web sites of all the streaming services.